RSNplus:

Boost for EM and Vuelta
Von Christoph Adamietz

Pascal Ackermann (UAE Team EMirates) celebrated his second season. |: Photo: Cor Vos
02.08.2022 |: (rsn) – Pascal Ackermann (UAE Team Emirates) had no reason to celebrate this year. Auch wegen eines Steißbeinbruchs konnet er in den ersten sieben Monaten des Jahres gerade einma einen Sieg einfahren. The Südpfälzer only showed a worse balance in its Neo-Profi Year 2017.
Doch nun folgte für Ackermann bei der Polen-Rundfahrt der Befreiungsschlag. Auf der 3. Etappe war er nach schwerem Etappenverlauf im Sprint nicht zu schlagen. "Für mich persönlich war der Sieg heute ganz, ganz, ganz wichtig", betonte Ackermann am Abend im Gespräch mit radsport-news.com die Bedeutung seines ersten Erfolges seit Mitte März, als er die Bredene Koksijde Classic (1.Pro) gewann.
The long-running Bora-Sprinter also made it clear that the four-month victory period was mainly due to his long pause after his fall in spring. "Die Polen-Rundfahrt is for me eigentlich the first race after the injury. Ich bin zwar die Slowenien-Rundfahrt gefahren, aber da war ich noch nicht bereit, weil ich das Training noch nicht hatte", so der 28-Jährige.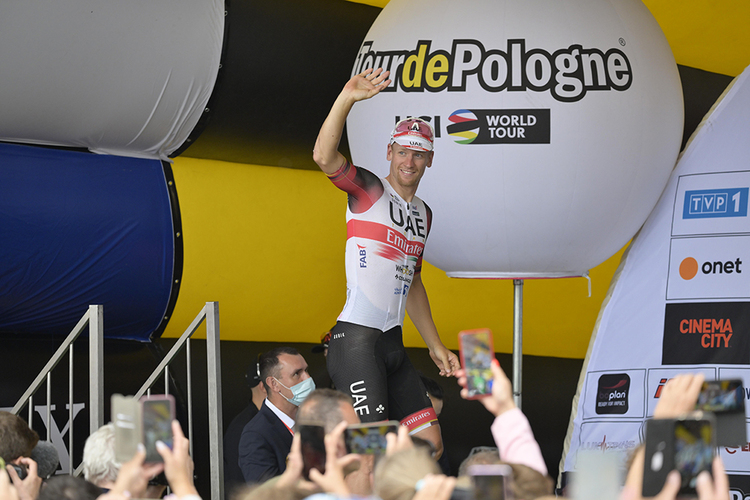 Pascal Ackermann durfte mal wieder aufs Siegerpodest klettern. |: Photo: Cor Vos
___STEADY_PAYWALL___
Aus fünf mach sechs?
Nach der Slowenien-Rundfahrt Mitte Juni konne Ackermann aber ausgiebig trainieren und weiter an der Form schrauben. Das diese mit Blick auf die Straßen-EM in München und die Vuelta passt, zeigte Ackermann mit seiner starken Leistung am Dienstag. "Das Finale was verdammt schwer, viele Kurven und der knackige Anstig noch dazu", explained the UAE-Profi.
Angesprochen auf das relatively similar Profil der 4. Etappe am Mittwoch, meinte Ackermann, dass die Ansteben auf dem bevorstehenden Teilstück "ein bisschen steeper, also nicht ganz so sprinterfreundlich" seien. Doch unversucht lassen will er es nicht. "After the day heute werde ich es auf jeden Fall probieren. "I believe that the pressure in the direction of EM jetzt weg ist, noch mal zeigen zu müssen, was ich drauf habe", so Ackermann, who hopes to be free to drive. "Ich denke, ich bin gut drauf und nehme jetzt einfach mit was geht", betonte er.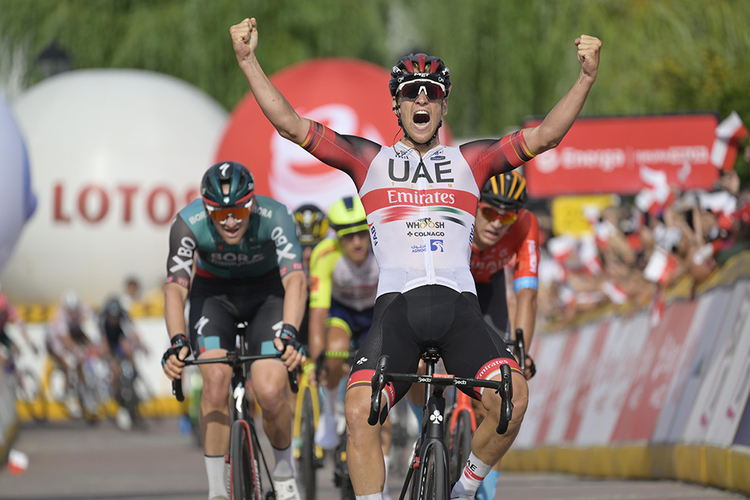 Der befreiende Moment des Sieges. |: Photo: Cor Vos
From Poland via Munich to Spain
Dabei es es für Ackermann auch darum, seine starke Bilanz bei der Polen-Rundfahrt – bisher stehen fünf Siege beim WorldTour-Rennen zu Buche – weiter auszubauen. Die Tour de Pologne bestreitet Ackermann aber nicht nur wegen seiner Erfolge in der Vergangenheit sehr gerne. "Es ist immer schön, nach Polen zurückzukommen. This is the first race after the summer break. Da sieht man, wie gut man garbeitet hat", so Ackermann, der direkt zufrieden anfügte. "Ich glaube, ich habe recht gut garbeitet."
Neben dem Finden der eigenen Stärke im Sprint, die Polen-Rundfahrt für Ackermann und sein Team auch dazu, den Sprintzug mit Blick auf die Vuelta abzustimmen. "Wir testen hier den Leadout für die Vuelta. I think, da sind wir ganz gut aufgestellt. Seba (Sebastian Molano, d. Red) hat mich heute perfekt gebracht. I believe that we are ganz gut harmonieren", says Ackermann very well in Sprint.
Molano wird Ackermann beim nächsten Einsatz, der Straßen-EM in München am 14. August nicht zur Seite stehen, da bei den Titelkämpfen die Nationalmannschaften am Start stehen. Auch wenn die offizielle Nominierung aussteht, hat Ackermann nicht nur very gute Chancen nominiert zu werden, sondern bei dem sprinterfreundlichen Rennen auch die Kapitänsrolle einzunehmen. Der Sieg in Polen durchte beim Bund Deutscher Radfahrer letzte doubel beseitigt haben, ob Ackermann ist der EM-Form der letzten Jahre ist, als er 2019 und 2020 gewann die Bronze-Medaille.
Ackermann thanks his Team colleague Diego Ulissi for his Vorarbeit. |: Photo: Cor Vos
Ackermann bezeichnete die EM zwar als sein nächtes Highlight. Der Formaufbau aber ist ganz auf die Vuelta gerichtet. "My main goal is the Vuelta. Für die haben wir trainiert und ich denke, dass da formtechnisch noch ein bisschen was geht bis dahin", blickte Ackermann auf die letzte GrandTour des Jahres, die im 19. August im niederlandischen Utrecht startet.